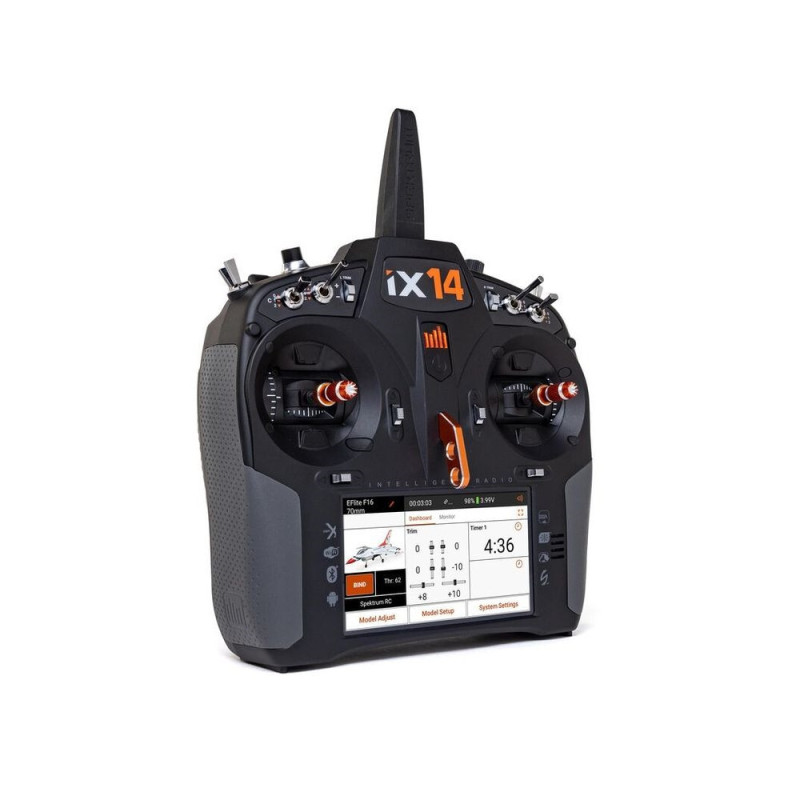 
 
The latest addition to the Spektrum ™ iX series of smart transmitters , the 14-channel iX14 offers a powerful range of features for intermediate to advanced pilots who need advanced programmability and capabilities to fly high-performance RC aircraft.
Comfortable, non-slip rubber grips / Non-contact precision gimbal sensors
Adjustable stick length and travel range / User-adjustable mode settings (1, 2, 3 or 4)
Customizable switch assignments
iX14 Spektrum transmitter only version
NOTE: The iX14 is compatible with DSMX receivers (not DSM2 compatible)
Read more
Paiement sécurisé

Livraison 24/48h

Paiement 3X
Technical specifications
* Details in pictures
| | |
| --- | --- |
| | |
| TOUCH SCREEN POWERED BY ANDROID | WI-FI, BLUETOOTH AND USB CONNECTIVITY |
* Specifications
4 " touch screen and android interface
The easy-to-read 4.5-inch color iX14 touchscreen interface provides crisp, clear information and allows you to make precise setting changes with a simple "touch". It starts up cold (from OFF) in less than 90 seconds and comes out of sleep mode in 10 seconds or less. As a fully functional Android interface, it will work with an evolving list of apps from the Google Play Store.

WIFI AND CONNECTIVITY BLUETOOTH and USB

With Bluetooth, Wi-Fi, USB and voice recognition capabilities, the iX14 can evolve and adapt in the rapidly changing world of smart technology. Direct programming allows you to wirelessly configure smart receivers and related products from the transmitter. Spektrum ™ AirWare ™ app update alerts are automatic, and you can download model configurations and add third-party apps. A USB-C port allows you to charge the internal Li-Ion battery with the included magnetic USB cable and USB-C adapter or any USB to USB-C cable. It can also be used to connect flight controllers, recognize accessory devices and provide a convenient link to your PC or laptop.

ULTRA SMOOTH AND PRECISE HALL EFFECT Handle
The iX14 transmitter's gimbals feature non-contact hall effect sensors that provide advanced accuracy, low maintenance and an ultra-smooth feel that is easily adjustable from the front of the transmitter.

FEATURES
2.4 GHz Band
2048 resolution
Frame rate 11 ms, 22 ms
Model memory 250
Modulation DSMX/DSM2
Transmitter Battery Type (Tx) SPMB10500LITX2 - 1S Lithium Ion 10,5000 mAh
Fail-safe Yes
Application Airplane/Helicopter/Plane
Channels 14
Smart Technology
Recipient Sold separately
Telemetry Yes
Battery Included
Full Interval
Modes User selectable mode 1-4
Rate of shifts 3 positions
Programmable Yes
SD card/Airware compatible Yes

Download manual in French : https://www.horizonhobby.com/on/demandware.static/-/Sites-horizon-master/default/dw41d390f0/Manuals/SPMR14000_Manual_FR.pdf
Content of the delivery
iX14 radio control in mode 2 (mode change detailed on the manual)
1x Li-on battery 10500mAh
1x magnetic USB cable to charge the radio control
a case
a spektrum neck strap
Customers who bought this product also bought: