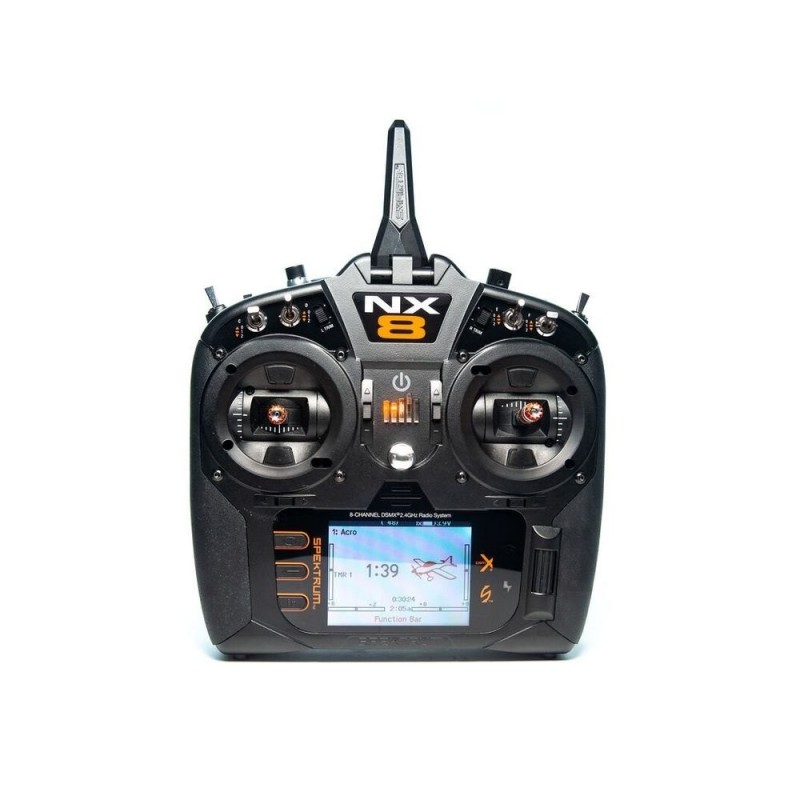 
 
The Spektrum NX8 8-Channel Transmitter offers experienced pilots all the benefits of a top-tier Spektrum™ radio.It features Wi-Fi connectivity, a large 3.2-inch backlit color display and supports Smart technology.
Read more
Paiement sécurisé

Livraison 24/48h

Paiement 3X
The Spektrum™ NX8 8-channel DSMX® transmitter gives intermediate and advanced pilots a new opportunity to explore the benefits of truly innovative radio control.
This radio includes an incredible array of exclusive technologies and advanced connectivity features not found in any other 8-channel transmitter.
Right out of the box, the NX8 is Smart Technology enabled.
It's ready to support your Spektrum™ Smart Batteries and Avian™ Smart ESCs, so you can receive important real-time telemetry data at your fingertips. Exclusive Spektrum™ Airware™ software is also included to make programming as easy and intuitive as possible.
The NX8 radio's Wi-Fi connectivity is even more convenient.
In addition to registering the product directly from the transmitter, you'll be able to instantly download firmware updates.
It's a completely modern user experience with some of the same features and capabilities as Spektrum™ iX Series premium radios.
The NX8 transmitter's ergonomic design is a testament to Spektrum™'s radio expertise.
Contours, balance and control positions combine to increase your input accuracy and provide unparalleled comfort.
An easy-to-use thumbwheel interface simplifies programming, with a large 3.2-inch color display to make menus easy to read.
Even a 1S 2000mAh Li-Ion rechargeable battery for the transmitter and a magnetic USB cable and micro USB adapter for convenient USB charging are included.
From its brilliantly designed display to Wi-Fi connectivity, built-in support for Smart Technology and more, the NX8 gives experienced pilots access to a wide range of Spektrum™ exclusive benefits and innovations.
Fly your aircraft with next-level control - choose the 8-channel NX8 transmitter.
SMART INTELLIGENT TECHNOLOGY
The Spektrum™ NX8 is ready to deliver the benefits of state-of-the-art connectivity right out of the box by supporting Spektrum™'s innovative, all-in-one telemetry Smart Batteries, ESC and receivers.
Smart technology ensures that all of your model's electronic components work together seamlessly for optimum efficiency and performance.
It keeps you informed about the status of each component, boosts your confidence in its capabilities, and makes your entire system more responsive and easier to use.
WI-FI AND USB CONNECTIVITY
When the NX8 transmitter is connected to Wi-Fi, you can register the product and download firmware updates instantly.
A micro USB port allows you to charge the internal Li-Ion battery using the included USB-micro magnetic cable and magnetic adapter.
It can also be used to recognize accessory devices and provide a convenient link to your PC or laptop.
Connect the transmitter to your computer and you can control most simulators, including the RealFlight® RC flight simulator.*
*Compatible with RF8 and RF9 only.
LARGE 3.2" COLOR DISPLAY
Navigating menus and viewing telemetry data is made easy with the NX8 transmitter's large, backlit 3.2" color display, which provides highly detailed information at a resolution of 320x240.
The display screen also allows you to choose from several color palettes and customize the colors.
ERGONOMIC DESIGN
The NX8 transmitter's weight distribution and switch placement have been optimized for your comfort and precise, fatigue-free control.
Rubber grips make the radio easy to hold.
Its antenna easily folds forward for compact storage and transport.
It also helps prevent a power-up accident by partially blocking the power button.
EASY PROGRAMMING
The NX8 offers 10 flight modes for airplanes, 10 for gliders, 5 for multirotor aircraft and 4 for helicopters.
10 programmable mixers and 2 sequencers are available
Navigation program menus are facilitated by the transmitter's large 3.2" color display and a scrollable interface with Clear, Back and Function buttons.
Function bar options include a dedicated display area to track real-time telemetry data and "My List" to give you quick access to the menu items you select, organize as you wish.
You'll have quick and easy access to the functions you use most!
AIRWARE™ SOFTWARE
The exclusive Spektrum™ AirWare™ programming software includes all the features an expert pilot could want, but you don't have to be an expert to use them.
It also offers benefits not available on other systems, such as Enhanced Wing Type programming that automatically configures the necessary mixes.
Active Gyro and Governor Trim to fine-tune rotor speed and gyro gain in flight
Electronic E-Ring to automatically limit servo travel if the sum of cyclic and pitch values exceeds servo limits.
VOICE ALERTS
With voice alerts, the NX8 lets you keep an eye on important functions without ever taking your eyes off your aircraft.
They can be programmed to tell you the flight mode you have chosen or to give you telemetry information on demand.
If an alarm goes off, you don't have to look at the transmitter screen to see what's going on - the NX8 will tell you.
A headphone jack lets you follow voice alerts with headphones so you don't disturb other pilots.
HIGH CAPACITY Li-ion TRANSMISSION BATTERY
The NX8 transmitter includes a long-life 3.7V 2000mAh 1S lithium-ion battery, cable and micro USB adapter for convenient USB charging.
WIRELESS TUTORING
Wireless TUTORING allows instructor pilots to wirelessly "pair" the NX6 with another DSM2®/DSMX® transmitter. Once connected to another transmitter, ModelMatch? technology allows the NX6 to reconnect without going through the linking process again.
DSMX TECHNOLOGY
The NX8 transmitter is built around proven Spektrum™ DSMX® 2.4GHz frequency-agile technology - the most advanced spread-spectrum RC technology to date. By adding the agility of unique frequency offsets to the superior interference resistance of a broadband signal, and limiting those offsets to a smaller portion of the 2.4GHz band, the transmitters
Some details:
3.2-inch, 320x240 backlit display with multiple color palette choices and user-customizable colors
Wi-Fi connectivity for easy product registration and firmware updates
Superb ergonomics
SMART smart technology compatibility
Lithium-ion transmitter battery 3,7V 2000mAh 1S and a magnetic USB cable and micro USB adapter for convenient USB charging
Programming of airplanes, sailplanes, multi-rotors and helicopters
250 model memories
Pre-registered models available for BNF airplanes
Box Contents:
(1) Spektrum™ DSMX® NX8 8-channel transmitter
(1) 1S LiIon transmitter battery 3.7V 2000mAh
(1) Micro USB cable
(1) Product manual
Technical Specifications:
Type: Advanced Radio-Computer
Number of Channels: 8
Modulation: DSM2/DSMX
Band: 2.4 GHz
Frame Rate: 11/22 Ms
Resolution: 2048
Programming Functionality: Airplane/Helicopter/Multi-Rotor/Glider
Model Memories: 250
Modes: User selectable mode 1-4
Transmitter battery type: 1S 2000 LiIon battery
Proportional channels: 8
Built-in telemetry: Yes
SD card/Airware™ possible: Yes
Receiver: Not included

Number of radio channels : 8
Customers who bought this product also bought: